Green Living
888 San Mateo has been an environmentally thoughtful community right from the start. We began with a smart infill location and an efficient architectural design to minimize material waste during construction, while also utilizing on-site recycling to further divert debris from overcrowded landfills. 888 San Mateo was built with a selection of sustainable construction materials designed to limit the consumption of natural resources including gas, electricity, and water during and after construction. These factors, in addition to many other environmentally mindful measures established at 888 San Mateo contributed to our community receiving the prestigious level of Platinum certification for LEED® for homes in 2014.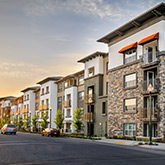 A Transit Focus
The savvy Northern California lifestyle is all about the convenience of mass transit 888 San Mateo's coveted location situated nearby the County Transit Stop, which accesses the Caltrain, and plenty of scenic bikeways simplifies getting around town without having to use your car.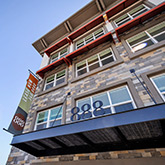 Recycled is Beautiful
888 San Mateo is comprised of beams and joists made from recycled wood-chip byproduct instead of traditional wood-frame construction in an effort to reduce the use of forested wood. We love forests just as much as you do.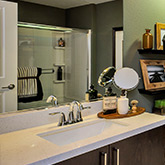 Water That's Resourceful
At 888 San Mateo, we installed low-flow fixtures so you can flush and shower knowing that you're minimizing the use of precious water resources.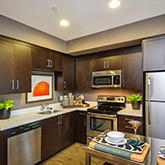 A Smaller Footprint is the Perfect Fit
The term 'carbon footprint' is used quite a bit. Basically, it means working efficiently and considerately. At 888 San Mateo, we've selected ENERGY STAR® appliances for our residences to reduce our footprint. Not only are we decreasing consumption, we are also enabling you to reduce costs on your monthly utilities. Every little bit counts.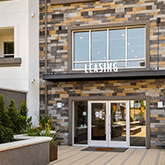 Landscaping That's Smart
One of the prettiest green features at our community is actually green. At 888 San Mateo, we've chosen drought-tolerant plants and installed drip irrigation systems to minimize water consumption. Our landscaping is beautiful without being wasteful. Enjoy the tranquil atmosphere we've created just for you.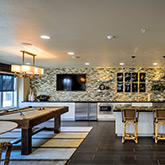 On-site Amenities Keep You Active
888 San Mateo offers residents a high quality amenity package including a luxurious pool and whirlpool spa, fitness center with a cardio-theater, club room, outdoor kitchen and courtyard lounge area, billiards, and more. Our fantastic amenities promote an active lifestyle right here at home. Walk more, enjoy more, and live more at 888 San Mateo.